About CORA Health Services, Inc.
Awards & Accreditations
CORA Rehabilitation Clinic- Deland has a CARF accreditation in Outpatient Medical Rehabilitation- Single discipline (Adults)

CARF International is an independent, accrediting body of health and human services throughout North and South America, Europe, Africa, and Asia since it was founded as an independent, nonprofit accreditor in 1966.

CARF-accredited service providers have applied CARF's comprehensive set of standards for quality to their business and service delivery practices. This means that they have demonstrated conformance to proven standards for business practices and are committed to continuous quality improvement. Each provider's commitment to excellence is periodically evaluated on site and reconfirmed annually.

WorkSTEPS Provider

To meet the critical need of employers for medically safe, legally compliant and defensible, scientific and objective means of matching a worker's functional capabilities with the essential functions of the job, WorkSTEPS has developed procedures and processes that include: 1.) Job analysis / Worksite assessment, 2.) Functional employment testing, and 3.) Continued educational training.

WorkSTEPS establishes functional testing as a foundation for hiring, fit-for-duty, and return-to-work programs. WorkSTEPS significantly reduces incidence and costs related to work injuries by appropriately matching employees to the essential functions of their jobs, expediting safe, early return to work and supplying objective, individualized data that results in case resolution for disputed/fraudulent workers' compensation cases.

Medicare Approved

CORA has been recognized as a Medicare provider by the Agency for Health Care Administration (AHCA). This process involves adherence to rigorous standards of care and environmental safety as well as a dedication to a system of continuous self assessment and program evaluation. CORA routinely passes government audits and inspections on patient care and billing practices. We are proud to serve our community as providers of rehabilitation services under the Medicare program.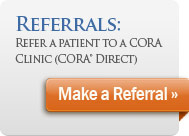 CORA Rehabilitation Programs: