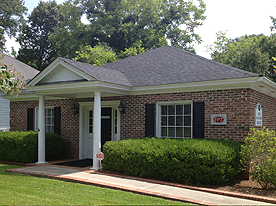 Request Appointment

Request an appointment with this clinic location.
Survey:

Provide feedback about your experiences at this clinic location.
Referrals:

Refer a patient using the RapidReferral service.
Services:

We offer rehabilitation programs for post-op recovery, seniors, work injuries, and sports injury recovery.
1017 Gordon St.
Camden, SC 290209601
Phone: (803) 310-9539

Fax: (803) 424-5910
A leader in physical and occupational therapy!
Services Offered:
| | |
| --- | --- |
| | Post-Surgery Rehabilitation |
| | Senior Rehabilitation Programs |
| | Work Injury Rehabilitation |
| | Gait Training |
| | Golf Conditioning Program |
| | Back Stabilization |
| | Balance Training |
| | Functional Capacity Evaluations |
| | Certified Hand Therapy |
| | Orthopedic Rehabilitation |
| | Pain Management |
| | Physical Therapy |
| | Post-Offer of Employment Test |
| | Vestibular Rehabilitation |