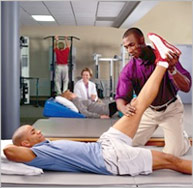 » Outreach athletic training
» Comprehensive sports medicine
» Community outreach and education
» Return to sports and active life style
» Wellness and recovery
» Injury risk assessment and prevention
CORA's Athletic Training Program aims to prevent acute and chronic injuries and conditions resulting from high-impact occupations and sports activities. Athletic Trainers are skilled health care professionals who specialize in the prevention, diagnosis, treatment and rehabilitation of injuries and illnesses.

Athletic Trainers work in a variety of settings and with all kinds of people - not just athletes. Nationally Certified & State Licensed Athletic Trainers (ATC, LAT's) play an integral role in injury prevention, acute injury assessment and the post injury rehabilitative process.

CORA's athletic trainers can be found on the "playing fields", as well as onsite job settings providing care to the "industrial athlete" at his or her workplace. CORA Rehabilitation & Sports Medicine offers outreach athletic training services to high schools, colleges, club sports, sports organizations, professional teams and various tournaments and sporting events.

CORA's Athletic Trainers work closely with team physicians, parents and coaches to ensure that athletes compete safely, return back from injury/illness as quickly and safely as possible and reach their highest potential.

Administrators, Athletic Director's & Coaches choose CORA's Outreach Athletic Training Services for our expertise, prompt response time and scheduling flexibility to name just a few reasons. Whether you require short-term athletic training services for specific sporting events, tournaments or more annual and long term permanent services, our nationally certified and state licensed athletic trainers are available to accommodate your needs.

Most health insurances are accepted so contact your nearest CORA clinic and let us help you get things started.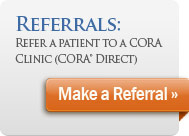 CORA Rehabilitation Programs: