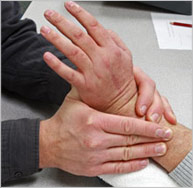 Hand and Occupational Therapy
» Specialized Clinicians
» Separate CHT Certification
» Trained for Complexities of the Hand & Upper Extremity
The team of Certified Hand Therapists (CHT's) at CORA Rehabilitation Clinics are licensed professionals proficient in the treatment of hand and upper extremity pathologies.

Each clinician is a physical or occupational therapist with over 5 years of experience, over 4,000 hours in the practice of hand therapy and have passed a national certification exam covering advanced techniques and theories on hand and upper extremity injuries. CORA CHT's are required to recertify their credentials every five years.

Patients who may benefit from hand and upper extremity rehabilitation provided by a CHT maybe surgical or nonsurgical with a diagnosis of:

- Congenital issues
- Post-op conditions
- Crush Injuries
- Tendonitis
- Tendon Repairs
- Flexor Tendon Repairs
- Tendon Transfers
- Fractures
- Compartment syndrome
- Carpal tunnel/Cubital injuries
- Soft Tissue injuries
- Amputations
- DeQuerviens
- Epicondylisis
- Neuromuscular Disorders
- Arthritis
- RSD

To schedule your appointment contact your local CORA Rehabilitation Clinic.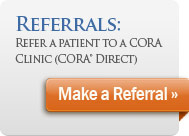 CORA Rehabilitation Programs: