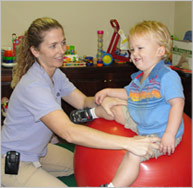 Pediatric Therapy
» Develop Motor Skills
» Increase Strength and Endurance
» Home Education and Follow-Up
» Ease the Challenges of Daily Activities
Pediatric Rehabilitation at CORA involves work with both the children and their families to assist the child in reaching their maximum potential to function independently and to promote active participation in home, school, and in their community.

Pediatric rehabilitation facilitates motor development and function and improves strength and endurance, enhances learning opportunities, and eases challenges with daily activities. Family involvement is paramount in a successful program as the therapist will work with the family to promote the child's development.

Each child is carefully evaluated by a physical or occupational therapist specially trained to ascertain the individual levels prior to beginning a program. An evaluation may include assessment of the following:

- Strength and endurance
- Posture and balance
- Developmental status
- Motor skills
- Muscle and joint function
- Cardiovascular status
- Mobility
- Sensory and neuromotor development
- Use of assistive technology/devices

A variety of treatment techniques will be utilized based upon the child's development stage in order to best achieve the desired outcome. Family and home continuation of therapy practices are critical to achieving overall success. Some of the techniques used in clinic and at home and community include:

- Positioning during daily routines and activities
- Adapting toys for play
- Expanding mobility options
- Using equipment effectively
- Safety in home and community
- Transitions from early childhood to school and into adult life
- Strength, postural and flexibility routines
- Developmental activities
- Movement and mobility
- Balance and coordination
- Assistive devices

Our therapists and clinicians will work with the family and child to achieve the best possible outcome. We use evidence based procedures and practices and update regularly with continuing education.

Most insurances and public heath insurance programs cover pediatric rehabilitation services but it is a specialized service so families need to be familiar with the benefits provided by their insurance carrier.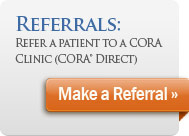 CORA Rehabilitation Programs: