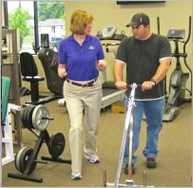 Post Offer of Employment Testing
» Meets EEOC and ADA Guidelines
» Job Site Analysis
» Cost Savings for Employers
» Physical and Function Tests to Meet Job Descriptions
CORA Rehabilitation offers a variety of Employment Testing and Assessments including Pre-Offer Agility Testing, Post Offer Employment Testing, Ergonomic Evaluations and Job Site Analysis. CORA develops post offer testing individually designed for each job description or if you require a national service we work with the WorkSTEPS® Program to utilize their extended network of providers.

All of our Employment Tests are based upon scientific data and comply with EEOC Guidelines for application of the ADA. Some components of our testing include: Musculoskeletal evaluations, cardiovascular status, static and dynamic strength evaluations, risk profiling, and job specific components. Our employment tests are not only used for determining an employee's ability to perform their job safely but also used as baselines for rehabilitation and recovery should an injury occur.

In addition to reducing new injuries and their related costs, employers who utilize CORA employment testing experience reductions in lost time, increased worker productivity, decreased turnover, and diminished incidences of fraud and abuse.

It is estimated that for every $1 spent on a post offer test, an employer realizes a $22 savings in workers' compensation costs.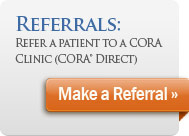 CORA Rehabilitation Programs: