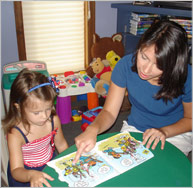 Speech Therapy
» Individualized Care
» Effective for Improving Oral Issues
» Treats Oral Motor Weakness Like Feeding/Swallowing
Our Speech-Language Pathologists are certified by the American Speech Language Hearing Association and licensed by each individual state board. Their education includes a Master's degree or higher and ongoing training in the treatment of adult and pediatrics. Speech-Language Pathologists assess, diagnose and treat a variety of conditions related to communication, feeding and swallowing disorders.

Speech-Language Pathologists treat adults with varying degrees of language, cognition, speech and feeding difficulties resulting from Stroke or Progressive Neurological Conditions, such as Alzheimer's, MS, Dementia, Parkinson's disease, etc.

Treatment also includes adults and pediatrics with Cerebral Palsy, Autism, Traumatic Brain Injury, Hearing Impairments, and Developmental Delays and their effects of learning difficulties, speech disorders (Articulation), Stuttering, Motor Speech Disorders (Dysarthria), language disorders, cognitive communication disorders, pragmatics disorders, and swallowing/feeding problems (Dysphagia).

Therapists treat a variety of voice related disorders due to vocal cord pathology or dysfunction and varying degrees of oral motor weakness and feeding and swallowing disorders commonly referred to as Dysphagia.

The Speech-Language Pathologist will develop and implement a treatment plan specific to the patient's needs. The therapist will also counsel and support patients and their families on the specific disorder and how to cope with the associated stress, as well as teaching them the treatment techniques and compensatory strategies to use at home.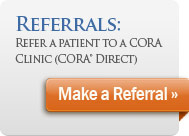 CORA Rehabilitation Programs: