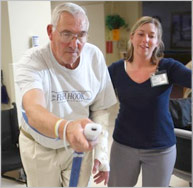 Wii-Hab Rehabilitation & Physical Therapy Using the Nintendo Wii
» Fun!!
» Improve Balance and Coordination
» Carry Over at Home
» Gain Confidence
Balance and coordination are critical components to the improvement and efficiency of safety in functional mobility. The Wii, using full range-of-motion movements, is a great way to integrate functional and recreational activities with balance and coordination into to the education and awareness of the patient to improve their confidence and mobility.

There are many ways to increase the dynamic challenge to Wii-related rehabilitation activities.

At CORA Rehabilitation, we would love the opportunity to introduce you to the fun and enjoyment of increasing your core stability, along with improving your ability to have dynamic balance and coordination.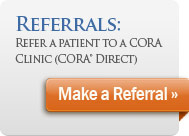 CORA Rehabilitation Programs: