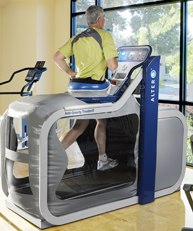 AlterG is Excellent For:
Runners

Reducing up to 80% body weight while running and walking
Low impact training
Increased speeds
Normal mechanical movement even when injured

Weight-Loss

By reducing impact on joints
Increasing tolerance to exercise
Building endurance

Following Surgery

By reducing joint stress and pain
Speeds recovery

Walking Assistance

AlterG has built in safety features to help reduce the chance of injury
The AlterG Anti-Gravity Treadmill is a one-of-a-kind treadmill. The treadmill's anti-gravity technology allows for weight reduction up to 80%. Whether you are training for a marathon, looking for a weight loss program, recovering from surgery or looking for added safety while walking – the AlterG is perfect for you!

At CORA we have had success using the AlterG for training and rehabilitating runners of all ages. Training for a big race can mean long hours of pounding the pavement. The AlterG's anti-gravity technology allows runners to reduce impact on their joints while continuing to train, thus helping to prevent injury. The AlterG not only reduces impact, but also allows for faster running by reducing bodyweight. With a max-incline of 15% it can even help to replicate hills. If you are a runner, you owe it to yourself to try the AlterG!

Are you hesitant to begin running because you are overweight? The AlterG is perfect for weight-loss programs. AlterG allows you to run for a longer duration with less joint pain – burning calories and preventing injury!

If you have had a total joint replacement or other lower extremity surgery, you may begin weight-bearing earlier during rehabilitation when using the AlterG. This helps you to get better faster! In addition, the AlterG helps keep you secure with zip-in shorts allowing you to walk more safely and comfortably.

Contact any CORA AlterG location to schedule a free 10-minute AlterG trial today!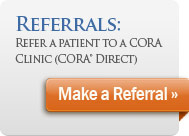 CORA Rehabilitation Programs: